Recent Posts
91
« Last post by AC on May 05, 2018, 02:15:53 PM »
Few pics, no audio and only three video recorded entirely.

Such a disappointment, as always...

93
« Last post by AC on May 02, 2018, 08:40:29 PM »
Second dayPics
Source:
www.facebook.com/photo.php?fbid=1118151764990673&set=p.1118151764990673&type=3&permPage=1
www.instagram.com/gisbertaosmy
www.instagram.com/p/BiSdvN3gI8q
Audio interview
www.deutschlandfunkkultur.de/stargaze-spielt-blackstar-in-der-elbphilharmonie-liebevolle.2177.de.html?dram:article_id=417104
94
« Last post by AC on May 02, 2018, 02:22:19 PM »
95
« Last post by AC on May 02, 2018, 12:51:28 PM »
First dayVideo
- Blackstar
https://instagram.fcgh4-1.fna.fbcdn.net/vp/cc01e912c294166533e26a5f935c1bf1/5AEB9645/t50.2886-16/31294655_906267582913742_5573769855351390208_n.mp4
https://instagram.fcgh4-1.fna.fbcdn.net/vp/967d448b1446a74bdb7f79b8f63ef65d/5AEC2E2B/t50.2886-16/31122419_660414807625963_5248279465380806656_n.mp4
- Lady grinning soul
https://instagram.fcgh4-1.fna.fbcdn.net/vp/6e7d5da163bc01aa03923bea80a75abb/5AEB6C9F/t50.2886-16/31787113_403401726736945_7661246619882821954_n.mp4
- Lazarus
Pics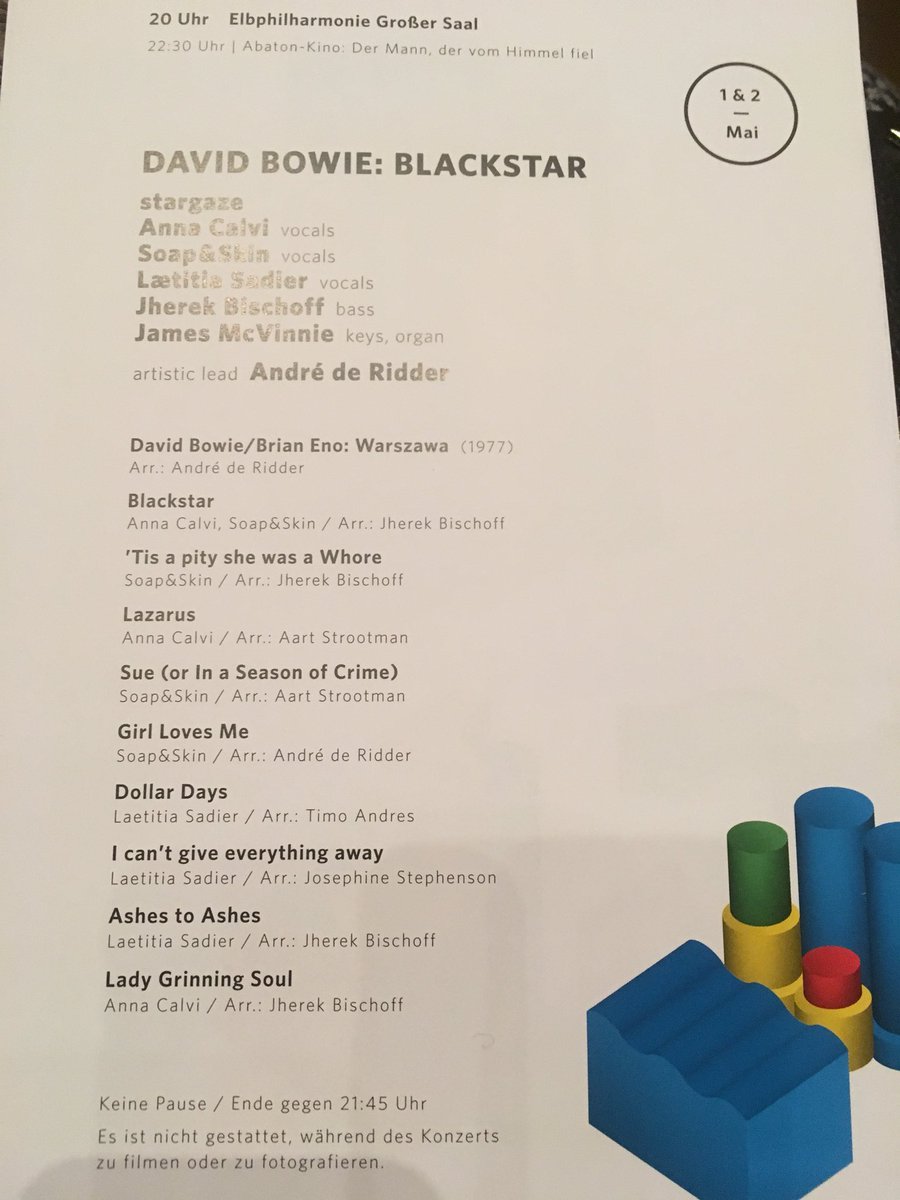 Source:
https://twitter.com/bruneva/status/991374198634369024
www.elbphilharmonie.de/de/presse/konzertfotos
www.instagram.com/p/BiP0prvDQIh
www.instagram.com/p/BiP1oGKhfxu
www.instagram.com/p/BiP1ZnFhhE4
www.instagram.com/p/BiP-Mn2ll2v
97
« Last post by Michael G on April 30, 2018, 10:11:17 AM »
Thanks Matteo for a really excellent interview. Mally is a great multi - talented musician who seems to be involved in an amazing amount of projects. Her collaboration with Lift was news to me , anyway. I hope there will be some more Blind Dog gigs very soon... !
98
« Last post by Louise on April 29, 2018, 04:32:49 PM »
I suppose that if 'Indies or Paradise' is the new album title, then it bears a sort of resemblance to one of Anna's favourite records, 'Heaven or Las Vegas' by the Cocteau Twins. However, it does strike me as being a bit clumsy for an album title..

It could as well just be a song title or just an extract from one of the new songs like maybe all the other polaroid subtitles. I love it how Anna this time not just simply announces the release of her new album, but provides us with many teasers to give us a lot to think about, naughty girl!
99
Ticket has arrived! It's good to have Anna in my ticket box again after way too long!
100
« Last post by dogandclowns on April 27, 2018, 02:36:55 PM »