Recent Posts
91
Date fixed!

annacalvi.altervista.org/anna-calvi-at-the-benicassim-festival-the-next-july/
92
« Last post by AC on May 09, 2018, 01:12:44 PM »
Two new videos above (of the first day).
93
« Last post by Louise on May 05, 2018, 06:50:39 PM »
Filming and photographing was prohibited and I suppose they were more strictly checking on that at the Elbphilharmonie than elsewhere. I think it was officially filmed though and might be broadcast on German TV some day.

The review on that radio show was good altogether but excellent for Anna in particular, pointing out that her performance was the most outstanding one, saying that she made Bowie's songs 'her own'.


94
Probably at Saint Denis Festival there will be more echo.
But I can't understand why her official pages still doesn't really work!
95
« Last post by AC on May 05, 2018, 02:15:53 PM »
Few pics, no audio and only three video recorded entirely.

Such a disappointment, as always...

97
« Last post by AC on May 02, 2018, 08:40:29 PM »
Second dayPics
Source:
www.facebook.com/photo.php?fbid=1118151764990673&set=p.1118151764990673&type=3&permPage=1
www.instagram.com/gisbertaosmy
www.instagram.com/p/BiSdvN3gI8q
Audio interview
www.deutschlandfunkkultur.de/stargaze-spielt-blackstar-in-der-elbphilharmonie-liebevolle.2177.de.html?dram:article_id=417104
98
« Last post by AC on May 02, 2018, 02:22:19 PM »
99
« Last post by AC on May 02, 2018, 12:51:28 PM »
First dayVideo
- Blackstar
https://instagram.fcgh4-1.fna.fbcdn.net/vp/cc01e912c294166533e26a5f935c1bf1/5AEB9645/t50.2886-16/31294655_906267582913742_5573769855351390208_n.mp4
https://instagram.fcgh4-1.fna.fbcdn.net/vp/967d448b1446a74bdb7f79b8f63ef65d/5AEC2E2B/t50.2886-16/31122419_660414807625963_5248279465380806656_n.mp4
- Lady grinning soul
https://instagram.fcgh4-1.fna.fbcdn.net/vp/6e7d5da163bc01aa03923bea80a75abb/5AEB6C9F/t50.2886-16/31787113_403401726736945_7661246619882821954_n.mp4
- Lazarus
Pics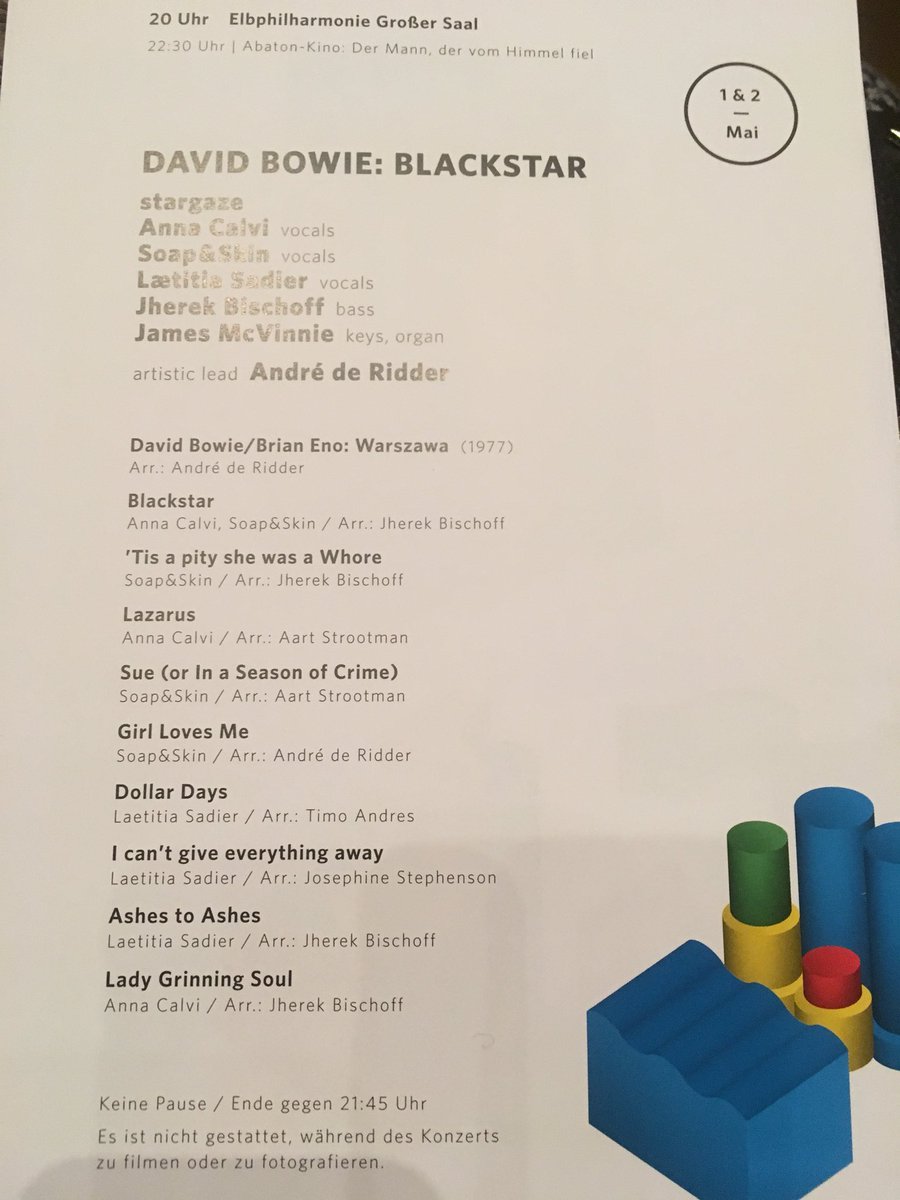 Source:
https://twitter.com/bruneva/status/991374198634369024
www.elbphilharmonie.de/de/presse/konzertfotos
www.instagram.com/p/BiP0prvDQIh
www.instagram.com/p/BiP1oGKhfxu
www.instagram.com/p/BiP1ZnFhhE4
www.instagram.com/p/BiP-Mn2ll2v